Description
100% Organic Orange Blossom Creamy Honey 420gr / 14.8oz
From the flowers of "Algarve", South of Portugal
A light and smooth honey collected by the bees in the orange groves of Algarve, in the south of Portugal.

The Creamy Orange Flower Honey (Extra-thin crystallization) is achieved by subjecting it, after packing, to controlled interior temperatures, in order to trigger a rapid crystallization process. It is an entirely natural product, without adding any foreign matter to honey.

Of the two main sugars of honey - glucose and fructose - glucose, less soluble than fructose, tends to precipitate in the form of crystals. The honey is opaque and tends to solidify. It is said then that honey "crystallized. " According to its floral source, honey that is crystallized in a few months and others take a year or more to crystallize.

420gr / 14.8oz - 1x Glass Jar


History:
We are in 1900 and Jorge Almeida Lima is exploring his first beehives in Quinta do Lameiro, Lisbon .
In 1974 his great grand children begin to keep bees when they decide to restore the old hives. First in Quinta do Lameiro and, since 1979, in Serra da Malcata - Penamacor.

Honey's remaining carbohydrates include maltose, sucrose, and other complex carbohydrates. As with all nutritive sweeteners, honey is mostly sugars and contains only trace amounts of vitamins or minerals.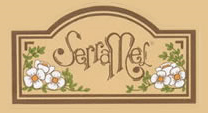 Serra da Malcata, a Natural Reserve of 21.000 hectares , is a wild mountain range in the interior of Portugal and one of the last sanctuaries of the Iberian Lynx.
We have chosen this region due to its isolation and richness in wild flowers: heather and lavender, from which the bees collect a high quality honey.
"SERRAMEL" produces its honey and pollen in this privileged area, a space where Nature still remains untouched and admirable. It is from here that we bring them to you…
Number of Reviews : 2
Average Grade : 5 /5
H. Kristy
on 25/03/2016

5/5
This is delicious and will be ordering more!
. Qselm_den
on 31/12/1969

5/5
Yummy honey. Strong orange blossom taste. Thank You.