Availability:

2 - 3 Days

Product Code:

Shaving Soap

Weight (grs.):

135 grs.

Brand:
Description
Musgo Real Shave Soap - Classic Scent - 125g
- Claus Porto -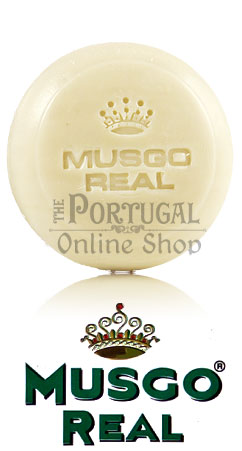 Top Shaving Soap for a Royal shave.
Capture the old world feeling when you lather up with Musgo Real Shave Soap.
Following the steps of the Musgo Real Shaving Cream, known to may as one of the best shaving creams in the world, now appears the Musgo Real Shave Soap.
Through the selection of the right ingredients to the saponification process, this shaving soap is especially smooth and high-foaming. The high content of stearic acid makes a particularly stable and creamy foam and thus a gentle shave that leaves a pleasant skin feel.
Features:
Creamy and smooth
Classic Musgo Real scent of vetyver and eucalyptus
100ml tube
Net Weight: 125gr
Ingredients:
Please refer to secondary picture for a complete list of ingredients.
CLAUS PORTO - Luxury fine soapsThe Claus Porto story goes back to the year 1887, when two German partners, Ferdinand Claus and Georges Ph. Schweder, started the production of fine soaps for gentlemen. (Up to then soap had had to be imported in Portugal!). When they left in 1918, their Portuguese partner Archilles de Brito took over. His first step was to start his own company, but shortly afterwards he also took over the name of 'Claus Porto' together with the production workshops.
Claus Porto toilet soaps are distinguished by their particularly pleasing scent – due to the natural essential oils (from the South of France) used in their production. The also contain special oils to care for the skin. The soaps look good, too.
Each bar is shaped with the maker's name and mark (the original presses are used!): the motifs go back to the 1920s.
Round about this time the Claus Porto firm also started and still continue to produce – under the trade name of Musgo Real – other soaps and shaving creams that, like the original soaps, are genuinely 'natural', containing no synthetic aromas, perfumes or conservation agents.
Number of Reviews : 2
Average Grade : 3.5 /5
. Frode
on 31/12/1969

5/5
Great soap! Smells fantastic, and lathers as well as my Truefit&Hill 1805 soap. Loads well and enough for three passes. I had none of the problems that some people reported about it not lathering & performing well. Worling up the lather was no more difficult than with other soaps.
. Panagiotis
on 31/12/1969

2/5
I had very high expectations from this soap! I had no problem at all creating a decent lather with a very pleasant scent, although is a bit tricky with the water. I also stop using my pre-shave cream thinking that it might be affecting it. At the end, always the lather began to collapse and dissolve as I was shaving, no matter what! What it left was a film which did offer much slickness to allow the razor to glide, so you can finish shaving comfortably enough. Another property of this soap is that it doesn't dry your face. It seams that it works more as a shaving lubricant than as a shaving soap. It's really surprising considering the heritage and reputation of Claus Porto. As an epilogue I think Claus Porto must to reformulate its ingredients. Therefore I cannot recommend it as a traditional shaving soap but only as a shaving lubricant.