Availability:

2 - 3 Days

Product Code:

Cologne / Aftershave

Weight (grs.):

300 grs.

Brand:
Description
Musgo Real Cologne Nº 2 Oak Moss - 100ml
- Claus Porto -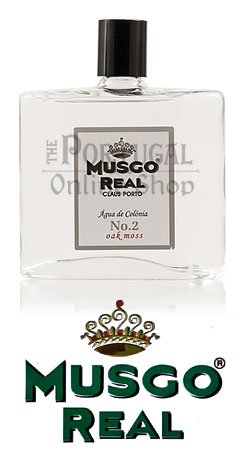 The oak moss, with its strong aroma and blended with soft herbal accents, creates a woody and involving cologne with a touch of freshness.

This cologne combines woody spices, coriander and lime, resulting in a pungent and provocative fragrance.
Woodsy oak moss is combined with a hint of green leaves and freshly mown hay for an outdoor scent that is fresh and masculine.
Ingredients:
Alcohol, Aqua / Water, Parfum (Fragrance).

Volume: 100ml / 3.38 fl. oz
weight: 280g
CLAUS PORTO - Luxury fine soapsThe Claus Porto story goes back to the year 1887, when two German partners, Ferdinand Claus and Georges Ph. Schweder, started the production of fine soaps for gentlemen. (Up to then soap had had to be imported in Portugal!). When they left in 1918, their Portuguese partner Archilles de Brito took over. His first step was to start his own company, but shortly afterwards he also took over the name of 'Claus Porto' together with the production workshops.
Claus Porto toilet soaps are distinguished by their particularly pleasing scent – due to the natural essential oils (from the South of France) used in their production. The also contain special oils to care for the skin. The soaps look good, too.
Each bar is shaped with the maker's name and mark (the original presses are used!): the motifs go back to the 1920s.
Round about this time the Claus Porto firm also started and still continue to produce – under the trade name of Musgo Real – other soaps and shaving creams that, like the original soaps, are genuinely 'natural', containing no synthetic aromas, perfumes or conservation agents.
Number of Reviews : 1
Average Grade : 5 /5
W. Raymond
on 04/02/2016

5/5
Beyond my expectation, as a new fans of Musgo Real, I have now completed the whole collection from No.1 to 5.