Availability:

1

Product Code:

Gift Box

Weight (grs.):

1980 grs.

Brand:
Description
Musgo Real Collection Gift Box - Spiced Citrus
- Claus Porto -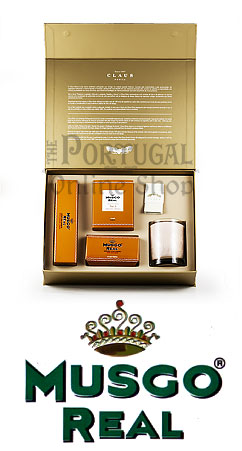 The Big Collection Gift Box - The most exquisite gift box from Claus Porto - a selection of the best Musgo Real products, along with a wonderful scented candle!
Spiced Citrus fragrance has an extremely male, intense and provoking perfume, ideal for those who like to be surprisingly mysterious and original.
Includes:
- Shaving Cream
- Eau de Cologne
- Soap on a Rope
- "Aguia" Candle
Total Weight: 1980g
Dimensions: 34x25x9,2cm
CLAUS PORTO - Luxury fine soapsThe Claus Porto story goes back to the year 1887, when two German partners, Ferdinand Claus and Georges Ph. Schweder, started the production of fine soaps for gentlemen. (Up to then soap had had to be imported in Portugal!). When they left in 1918, their Portuguese partner Archilles de Brito took over. His first step was to start his own company, but shortly afterwards he also took over the name of 'Claus Porto' together with the production workshops.
Claus Porto toilet soaps are distinguished by their particularly pleasing scent – due to the natural essential oils (from the South of France) used in their production. The also contain special oils to care for the skin. The soaps look good, too.
Each bar is shaped with the maker's name and mark (the original presses are used!): the motifs go back to the 1920s.
Round about this time the Claus Porto firm also started and still continue to produce – under the trade name of Musgo Real – other soaps and shaving creams that, like the original soaps, are genuinely 'natural', containing no synthetic aromas, perfumes or conservation agents.