Availability:

2 - 3 Days

Product Code:

Cologne / Aftershave

Weight (grs.):

285 grs.

Brand:
Description
Musgo Real After Shave Balsam - 100ml
- Claus Porto -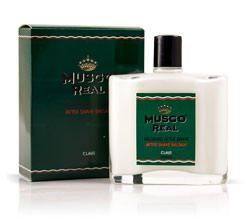 With its ultra soothing and healing combination of ingredients, this is the perfect after shave balsam for sensitive or irritated skin. Almond and jojoba oils act like a treatment for dry and damaged skin, while shea butter and marshmallow sooth and protect. Echinacea stimulates the skin own healing process while 100% natural beeswax forms a micro thin shield to protect skin from the elements.
After shaving, apply a thin layer to the face where shaving has just taken place. May be used as a pre-shave lotion as well: Apply liberally to clean, dry skin before applying shaving cream.
Especially for the most sensitive and irritated skin types, this after-shave has a moisturising and reparative action in dry and damaged skins, due to the almond and jojoba oils; a protective and smoothening effect because of being enriched with karité shea butter and marshmallow cream. Moreover, it speeds the skin's natural healing process because it contains Echinacea.

Volume: 100ml
weight: 280g
CLAUS PORTO - Luxury fine soapsThe Claus Porto story goes back to the year 1887, when two German partners, Ferdinand Claus and Georges Ph. Schweder, started the production of fine soaps for gentlemen. (Up to then soap had had to be imported in Portugal!). When they left in 1918, their Portuguese partner Archilles de Brito took over. His first step was to start his own company, but shortly afterwards he also took over the name of 'Claus Porto' together with the production workshops.
Claus Porto toilet soaps are distinguished by their particularly pleasing scent – due to the natural essential oils (from the South of France) used in their production. The also contain special oils to care for the skin. The soaps look good, too.
Each bar is shaped with the maker's name and mark (the original presses are used!): the motifs go back to the 1920s.
Round about this time the Claus Porto firm also started and still continue to produce – under the trade name of Musgo Real – other soaps and shaving creams that, like the original soaps, are genuinely 'natural', containing no synthetic aromas, perfumes or conservation agents.
Number of Reviews : 2
Average Grade : 5 /5
. Ray
on 31/12/1969

5/5
The best shavingd balm that exists, try it and you will never go back to your old brand.
. Ray R. Tollefsen
on 31/12/1969

5/5
A top after shave balsam from Musgo Real,
soothing and very softening to the skin. I find it
to be the best for me and my skin. Has a fine discreet
scent of patchouli, verbena and perhaps eucalyptus.