Description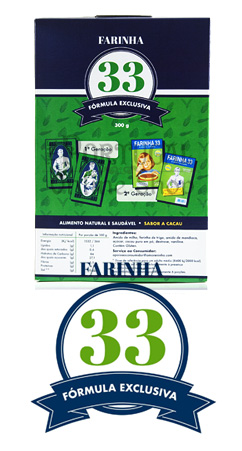 Farinha 33 - " Eat Farinha 33, and you'll be strong as 3! "
Farinha 33 is a family flour, ideal for breakfast, and can be consumed as a porridge or drink, mixed with milk, water or coffee.
A Portuguese product dating from 1937, with an exclusive and energetic formula, 100% natural, with cocoa flavour.
Composed solely of natural ingredients:
- Cocoa: Rich in aminoacids, vitamins and antioxidants - Soothing, antidepressing and brain activating. Reduces the risk in heard diseases by raising blood circulation.
- Mandioca: Originary from Brazil and Paraguai, has a high level of fibers and rich in carbs, zync, magnesium, copper and iron. Is fatless, easy to digest - Natural soothing, helps immunitary system as well heart diseases
- Corn (non GMO): Originary from Central America, highly nutritive element and the most grown in the world. Rich in vitamin A, B1 and B3, potassium, folic acid and fibers - helps controling cholesterol, blood pressure and immunitary system, as well as the nervous system.
- Wheat: Rich in carbs, fibers, magnesium, Vit E, B and zync - Levels diabetes, reduces heart diseases and mantains a proper digestive system.
Dimensions: 14,5 x 9 x 3 cm.
Contents weight: 250g = 8.8 oz = .55lb

Ingredients and nutritional values: refer to images
Farinha 33 – 3rd gen
In September 2018, Farinha 33 returns more modern and accessible. A flour for the whole family, for those who remember the good old days and for those who only try it now for the first time
Number of Reviews : 1
Average Grade : 5 /5
C. Chico
on 29/12/2016

5/5
I mix Farinha 33 with normal porridge and almond milk, my son loves it :)