Availability:

Pre-Order

Product Code:

Barber Kit

Weight (grs.):

15800 grs.

Brand:
Description
Important Note:
This item is made upon demand and takes 6 weeks to be produced. You cannot add it to the cart as a regular product. You must use the Request to Order button to contact us expressing your desire to acquire one.
Shipping methods and costs are unique to this product and will bet defined upon your contact and needs. Any questions, feel free to contact us. Thank you!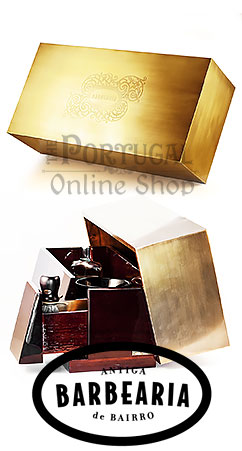 It is said that a "Tesouro"(treasure) is the valuable thing lost so long ago that no longer knows who owns it. For the Antiga Barbearia de Bairro treasure is a cult object for the modern and passionate man that appreciates the act of shaving. The Antiga Barbearia de Bairro created in a partnership with Bateye®, to celebrate the five years of its journey, a box, manually produced by craftsmen who work the finest materials carefully.
"Tesouro" is an exclusive piece for men to store their razor objects. Developed in patinated brass and noble wood, this box becomes a real "Gold wish" for shaving lovers.
PIECE INFO
| | | |
| --- | --- | --- |
| DIMENSIONS | | WEIGHT /TOTAL |
| W 46 cm | 18" | | 15 Kg / 15,8Kg |
| H 20 cm | 8" | | VOLUME |
| D 27 cm | 11" | | 0,25m3 |
PRODUCTION TIME:
6 weeks
MATERIALS & FINISHES:
brass, padauk wood and high gloss varnish
PRATICE RECOMMENDATIONS:
Clean and Care: dry cloth.
---
Antiga Barbearia de Bairro -
This brand, created and produced in Portugal, was inspired by the old Portuguese Quarters and a lifestyle that still (stubbornly) persists, defying the progress by reinventing itself. Like the Ribeira Quarter in Porto, or the Príncipe Real Quarter in Lisbon, that inspired the two new collections of this brand.
The old Barber Shops, where the shaving is still made with a sharp razor, and serve as a meeting point to a hip crowd, are back in style.
"Antiga Barbearia de Bairro" translates to "Old Neighborhood Barber Shop", and this is the starting point for this new concept.
"The "Antiga Barbearia de Bairro" is the first brand produced by "100ml". We have felt there was a gap in the Market Segment, so we decided to create something different and unique in this area.

We want to revive the ritual of shaving, which has somehow been abandoned, and put a new emphasis on the traditional brush.
We have also been observing a revival of this trend, which reveals a path that enchanted us.
In fact, we are witnessing a return to classical processes now reinterpreted and filtered by new standards and aesthetic graphics.

In Portugal the barbershops are an integral part of the history of many towns and "Tertulia" venues. Even today, many districts keep this tradition alive, in areas in which remain a culture of communication, talking and exchanging greetings very typical of the Portuguese culture and that we are so proud of."