Availability:

1

Product Code:

Talcum Powder

Weight (grs.):

135 grs.

Brand:
Description
Confiança Baby Talc - Talcum Powder - 100g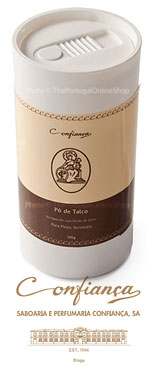 Of mineral origin, Talcum Powder comes from a vein located in the Pyrenees in the region of Ariège, France.
Simply soft and fragrant with notes of citrus, has a very soft touch and good capacity of absorbing excess moisture from the skin.
The presence of zinc oxide protects the most sensitive skin, keeping it healthy.
Maintenance:
Keep in a cool and dry place, and protected from light. Avoid excessive heat.
Product weight: 100g
Total Weight: 135g
Ingredients:
Talc, Zinc Oxide, Parfum, Limonene, Hexyl Cinnamal, Linalool, Amyl Cinnamal, Citronellol, Eugenol, Citral, Hydroxycitronellal
Confiança - A century's Trust :
Saboaria e Perfumaria Confiança S.A., was founded in Braga, in northern Portugal, on 12th October 1894, by Almeida Silva and Santos Pereira.
Initially specialized in Offenbach laundry soap manufacturing, there was a rapid association to the products of Confiança. This fact have permited to achieve an enviable reputation. The major part of the sales were mostly in Portugal and the former Portuguese colonies.
In 1919, the product range manufactured and comercialized by Confiança was enlarged to perfumed soaps, fine soaps, transparent soaps, rice-powder, eau de cologne, medicinal soaps, extra-fine extracts and oils coming from former Portuguese colonies.
In 1928 there were about 150 labels of soaps, rice-powder, creams, tooth pastes, shaving sticks, eau de cologne, lotions and essences manufactured by Confiança.
In the 80's, Confiança starts to developpe new cosmetics, adjusting formulas and offering new ones, specially in bath gel and perfumed shampoos, as an answer to new ways that began to impose and the constant requests os new products coming from its clients.

In final 2005, facing an enfeebled financial situation, the company was bought by a portuguese capital risk funds company. With the reorganization and investment with urgent actions, it was already possible to turn concrete the ISO 9001:2000 certification, becoming that way the only company in this area with recognized manufacturing and products methods.

The appositive one in the improvement of the existing products, in terms of packing and of offers, as well as the development of new, is a priority to Confiança, respecting always the traditional origins and methods, passed between generations. The Art Nouveau and Art Déco artistic influences that were proper from 20's, are still evident in classical products of Confiança. The combination of shape, the characteristic of the soap and wrapping is an art in Confiança, passed through generations. Thus, all its essence is conserved.