Availability:

Out Of Stock

Product Code:

Shaving Scuttle

Weight (grs.):

1350 grs.

Brand:
Description
Clay Shaving Scuttle - "Estremoz" V2 - Dual Piece Bowl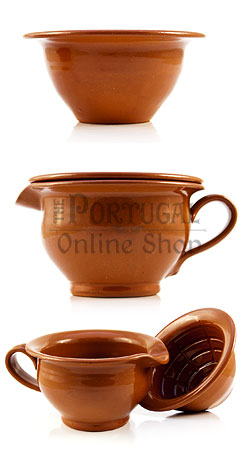 After the success of the first Portuguese Shaving Scuttle that we made, we introduce "Estremoz V2", now in two different colours and slight changes in design for even better performance!
Handmade clay shaving bowls!
Experience superb lather produced in this shaving scuttle, for a luxurious shave.
How does it works? By filling the scuttle with hot water, it will keep the temperature within the bowl where you can place shaving cream or soap and produce excellent lather with your shaving brush.
"Estremoz" is a small city of Portugal - It is wordly known not only for it's marble, but as well for it's superb clay.
"It's the land where you find the most exquisite
and loved red clay of all Portugal"
Cosme de Médicis
Handmade by a talented craftsman, it would only seem natural to have this characteristic name, as it expresses the high traditional value of Portuguese clay work and handicraft.
This is the standard model, in it's natural clay reddish/orange colour, and consist of two pieces, which prooves to be considerably easier to fill it and to clean. To use it just fill the base with hot water and use the upper bowl to produce the lather.
Features:
Handmade
High quality glazed clay
Separate bowl from base for easier filling / cleaning
Maintains temperature for longer times
Inside details help producing better lather
Food safe - go ahead and eat some Portuguese "Caldo Verde" in it!
Can be put inside microwave and dish washer machine.
Scuttle model and brand hand painted in the base.
Approximate Dimensions:
10cm | 4'' High
16cm | 6.6'' Wide
Inside Bowl:

11cm | 4.3'' larger diameter
4cm | 1.6'' base diameter
Number of Reviews : 1
Average Grade : 5 /5
. Saulo
on 31/12/1969

5/5
It looks so much better in person than it looks on pictures. Awesome piece of art". As described above, it creates a really thick and rich lather easy to work with.

Really great bang for the buck, to be honest. Cheers!
"